Distance Learning through Delta State University

Welcome back! There is a lot of exciting things happening in our virtual classroom. This website is designed to help our class stay on task and keep us virtually connected. With the current pandemic it is key students check their school issued email accounts daily for work & updates. Hope to see you soon!
Google Meet Video Link:
https://meet.google.com/wmv-bbkm-rgd

Dial-in:702-551-9168
PIN: 108 624 385#
Email: bwhite@hssd.k12.ms.us
Contact number: (Work) 662.252.2183 ex. 4090
How to access E-books:
· Go to Holly Springs School District Page
· Under School Tab > Click on HSHS
· Under News and Events > Click Library
· Click on Links
o Access to MAGNOLIA
o Scroll to the bottom of page (Note: 2 portals for e-books)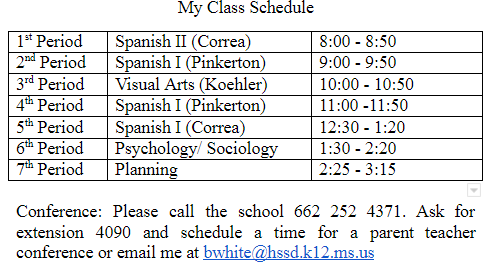 You have two options for accessing ebooks, and here are the login credentials for each of the two portals.
News Alert, Class Announcements (Students, be sure to check your email.)